Paravirtual to NVMe Virtual Storage Controller in vSphere 6.5
The virtual storage controllers that are presented to a virtual machine can impact the performance of those VMs greatly. New to vSphere 6.5, we have the availability of NVMe virtual storage controllers. NVMe as a storage technology is a great leap forward for performance. With NVMe the storage has direct access to the PCIe bus. With the required virtual machine hardware version 13, you can utilize the new NVMe controller on your virtual machine.
NVMe virtual storage controller requirements
The requirements of the NVMe virtual storage controller include the above mentioned Virtual machine hardware version 13.  Additionally, the guest operating system must include one of the following operating systems as taken from 
VMware KB 2147714
.
Windows 7 and 2008 R2 (hot fix required: https://support.microsoft.com/en-us/kb/2990941)
Windows 8.1, 2012 R2, 10, 2016
RHEL, CentOS, NeoKylin 6.5 and later
Oracle Linux 6.5 and later
Ubuntu 13.10 and later
SLE 11 SP4 and later
Solaris 11.3 and later
FreeBSD 10.1 and later
Mac OS X 10.10.3 and later
Debian 8.0 and later
Change Paravirtual to NVMe virtual storage controller in vSphere 6.5
We can in an order of operations change over to the NVMe virtual storage controller on a compatible OS by:
Adding the new NVMe Controller
Adding a new temporary hard drive attached to the NVMe controller
Allowing the operating system to install the storage controller driver for the new NVMe virtual storage controller
Powering down the VM
Changing the boot drive controller to the new NVMe controller
Then delete the temporary hard drive we added.
First, on a powered on virtual machine, we add the New NVMe Controller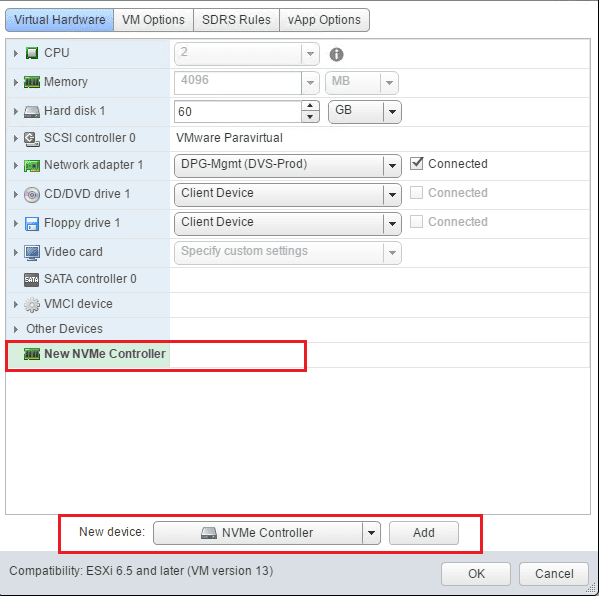 Next, we add a temporary hard drive and attach the new hard drive to the new NVMe controller.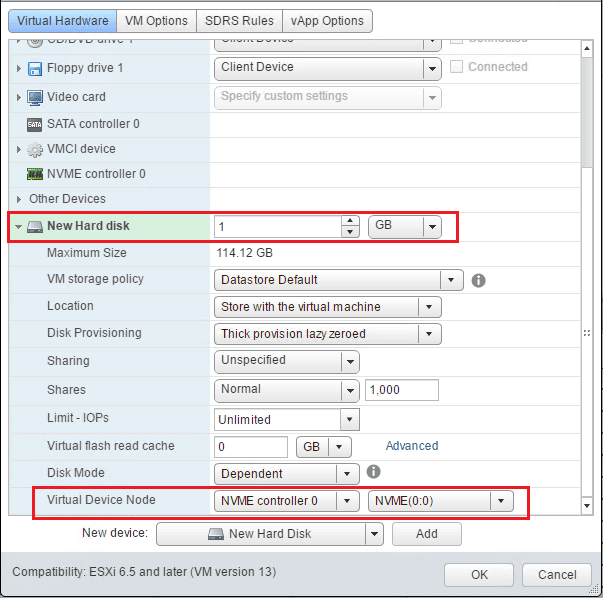 Check Device manager in the powered on virtual machine as you should see the Standard NVM Express Controller show up under Storage controllers.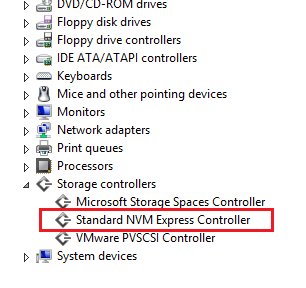 Now, we can power down the virtual machine and get rid of the temporary hard drive.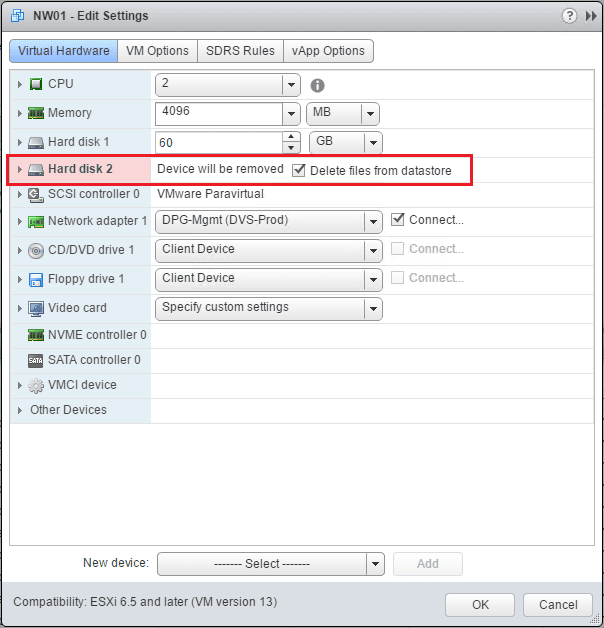 Finally, we change the boot drive to the new NVMe Controller.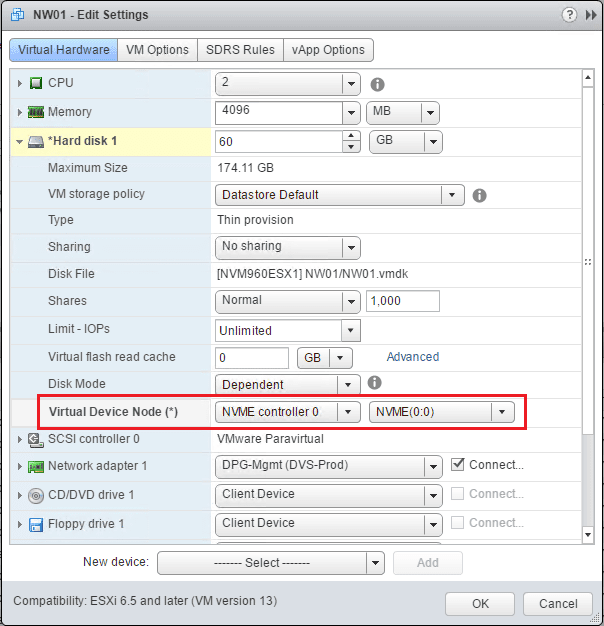 The virtual machine should boot normally after the change to the new NVMe virtual controller.